Paddle Steamer Picture Gallery
Captain J W S Charman of the General Steam Navigation Co Ltd
---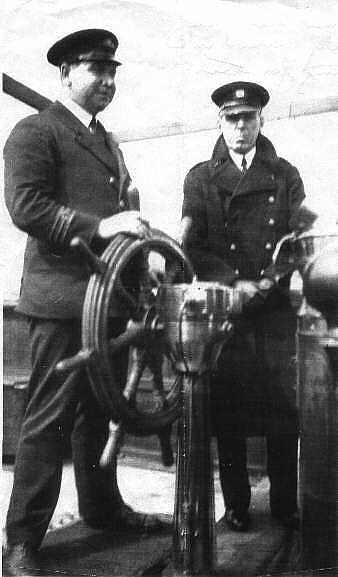 ABOVE: First Officer Charman at the wheel of a cargo steamer, possibly Grebe, with Captain Cole (right). The picture was taken by Mike's mother who sometimes joined the vessel at Southampton and sailed round to London to complete the inward journey and took photos with the little box brownie that they had.
BELOW: Capt. J W S Charman at the bow of PS Crested Eagle. Note the big wheel tied with rope. This wheel controlled the bow rudder, which was used to assist navigation when manoeuvring or berthing. The telegraph shown did not send instructions to the engine room but was used from the bridge to the bow to instruct in controlling the ropes during berthing and casting off.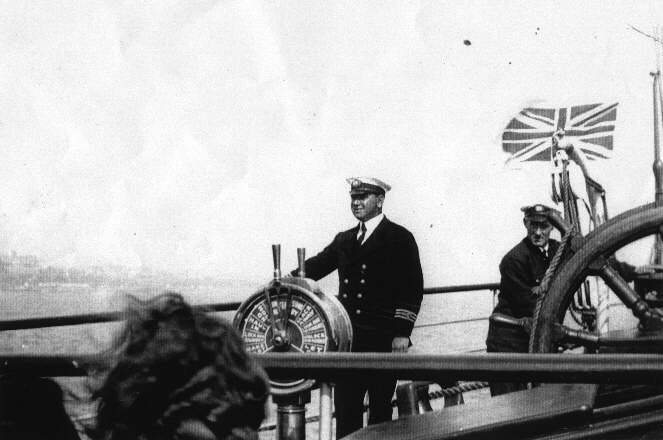 Below: A 1937 crew picture of PS Crested Eagle. The picture shows what an extensive crew she carried and Capt. Charman is shown seated to Capt. Cole's right (to the left as you look at the picture). In addition to those officially posing for the picture you can see the cheerful face of a stoker towards the top right of the back row. It doesn't look as if he was supposed to be there!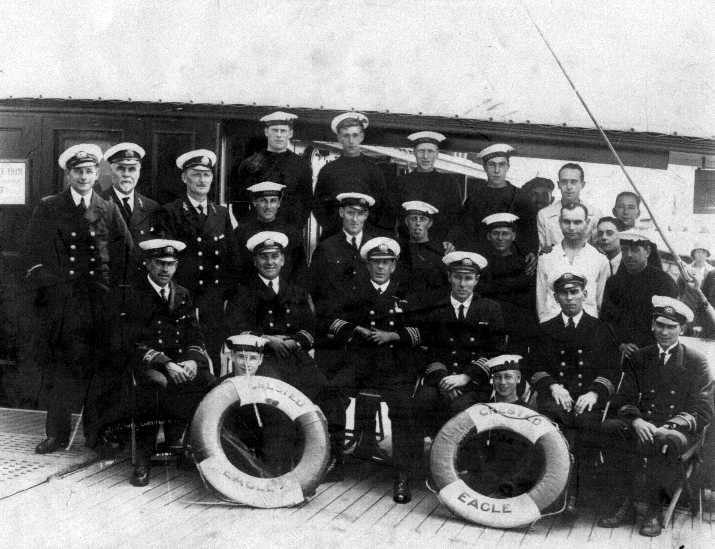 These pictures have been kindly donated by Mike Charman, whose father, Capt. J.W.S.Charman was employed by General Steam Navigation Company Ltd throughout the thirties until he joined Trinity House at the out break of war. He served on all the paddlers in the summer seasons and during the winter on the cargo boats. Mike tells that Capt Charman used to run down to Tonnay Charente on what was known as the "Brandy Run". This was to bring barrels from nearby Cognac back to the bonded warehouses in London. He was master of amongst others Laguna Belle, Queen of Kent and Chief Officer of the Crested Eagle. Mike was lucky enough to have been taken on the Queen of Kent in the fifties for a trip out of Ramsgate. Mike's uncle Spence was skipper of the fleet oiler Robin Redbreast and Mike used to go down to West Street Pier Gravesend on a Friday in the summer holidays where Robin Redbreast would be fuelling the Royal Daffodil. He would then spend the day on her going wherever fuel was required. I am grateful to Mike for letting me show the pictures here.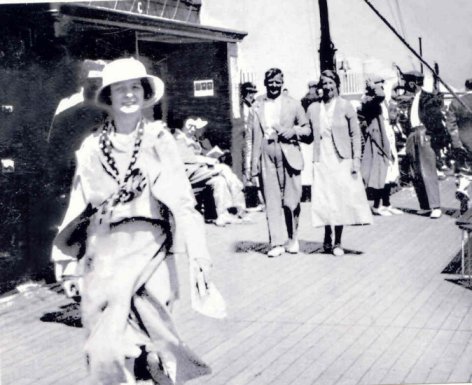 This picture shows Mike's mum "trolling along the deck" of Crested Eagle in glorious sunshine.
---