Paddle Steamer Picture Gallery
PS Crested Eagle
---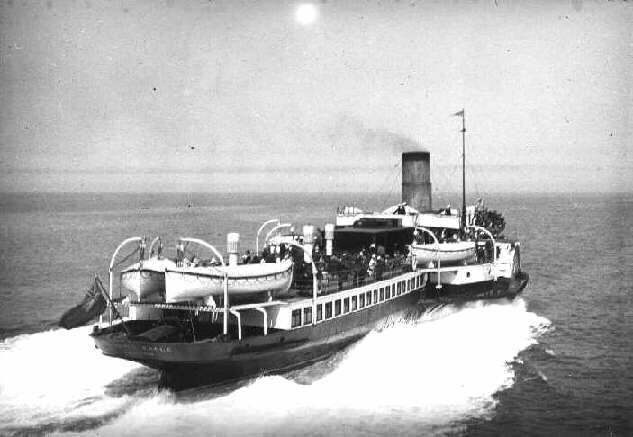 Builders: Samuel White of Cowes 1925
Propulsion type: Paddle, oil burning
Owners: General Steam Navigation Co Ltd
Service dates: 1925 - 1940
Tonnage: Net 579 Gross 1110
Comments:
This picture is previously unpublished and comes from a glass plate kindly loaned by Cyril Perrier, whose father took the picture in 1925 when PS Crested Eagle was new. I am indebted to Cyril for letting me show the picture here.
My father, Gordon Lee, can remember the introduction of Crested Eagle in 1925 and the fact that some parts of the ship still smelled of paint. The magnificent engines of the ship, her speed and the lines of her hull still hold a special place in his heart. His last trip on her was in 1939 to Clacton, when she had her new funnel and deck shelter.
Designed to pass under London Bridge, Crested Eagle had a telescopic funnel, hinged mast and squat structure, which enabled her to use Old Swan Pier. She was known as the "Greyhound of the River" according to a General Steam postcard of her Captain and she sailed the Essex and Kent coasts, as well as to Felixstowe. Crested Eagle was sunk at Dunkirk when she was bombed between the funnel and the engine room. As she sunk her fuel oil ignited and the blaze that followed claimed over 300 lives. My father remembers feeling sick at the news of her loss. Her hulk still lies on the Dunkirk beaches.
My father tells me that in the early 1930's her Captain, Capt. Cole, always wore kid gloves when berthing at piers on a Sunday. He cannot vouch for weekdays as it was always Sunday when the family travelled on the "Crested" as this was the only day that his father had a whole day off.
For two, previously unpublished, photographs of her First Officer JWS Charman and Capt. Cole, please click here.
---